Buy This Book * More books by Julia Donaldson
"A gruffalo? What's a gruffalo?" "A gruffalo! Why, didn't you know? He has terrible tusks, and terrible claws, and terrible teeth in his terrible jaws." And so begins the story of a quick-witted mouse as he encounters a host of predators who seem to think he might make a tasty treat. As he ventures deeper into the deep dark wood, stumbling across a hungry fox, a not-so-wise owl, and a slimy snake, spinning ever-extraordinary yarns about the scary, scaly gruffalo, he quickly realises that the hungry beast he has been talking of isn't imaginary after all.
Teaching Ideas and Resources:
English
Investigate the rhyming in the books. Which words rhyme? Can you think of other words that rhyme with those?
The story uses lots of different types of punctuation. Look at each type of punctuation and explain why it has been used.
Turn the story into a play, using the correct layout. Could you perform this for others? Watch this version for some inspiration:
Add speech bubbles to the illustrations shown in the book.
The word 'terrible' is used to describe the Gruffalo. Can you think of synonyms for 'terrible'? Can you think of other words to describe the Gruffalo?
The mouse pretends to be 'the scariest creature' in the wood. What other 'scary' animals can you think of? Why are they scary? Can you write a story about a scary animal?
Watch this video in which Julia Donaldson talks about how she wrote the book:
Peter Fogarty has kindly contributed a set of Thinking Hat resources linked to the book (see Resources below).
Science
Write a report about an imaginary creature. What does it eat? Where does it live? How is it adapted to live in that place?
Create a food chain using the animals in the story and shown in the pictures.
Look at the illustrations in the book and find out about all of the different animals shown.
Computing
Use Switchzoo to create your own imaginary creatures.
Use painting software to draw your own Gruffalo picture, or a picture of an imaginary creature.
Could you make your own animated version of The Gruffalo?
Design Technology
Make your own life-size model of the Gruffalo. Take a look at this example, created by Ann Plowman:
Art
Draw or paint your own imaginary creature.
Create a life-size picture of the Gruffalo, using the description in the text.
PSHE
Look at the different expressions of the characters shown in the story. How are they feeling?
Downloads: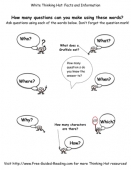 Thinking Hat – The Gruffalo
Contributed by Peter Fogarty.