Buy This Book * More books by Anna Llenas
One day, Colour Monster wakes up feeling very confused. His emotions are all over the place; he feels angry, happy, calm, sad and scared all at once! To help him, a little girl shows him what each feeling means through colour.
Remember to read The Colour Monster Goes to School and try our related ideas too!
Teaching Ideas and Resources:
English
Retell the story from the point of view of the Colour Monster. Could you write his diary entry?
Write a prequel to this story. Where did the Colour Monster come from?
Write a sequel. What adventures might the Colour Monster have next?
Write a separate story about an angry Colour Monster or a sad one.
Think of synonyms for the names of different colours, e.g. red = crimson, maroon, cherry, ruby.
Think of some speech/thought bubbles to accompany the illustrations.
Make a list of words that the author links with each colour, e.g. yellow = bright and light, blue = gentle and alone. Can you think of synonyms for these words?
Computing
Use painting software to mix colours. Could you create your own picture of a colour monster?
Record a 'read aloud' video that tells this story.
Design Technology
Make large-scale models of the colour monster when he is different colours.
Create your own Colour Monster puppets and use these to put on a show.
Read the pop-up book version of the story. Can you make your pop-up page using similar techniques?
Look at the 'Colour Monster' cuddly toys. Can you design and make your own?
Art
Try some of the colouring tasks in the Activity Book version of this story.
How many different colours can you think of?
Can you mix colours? What new colours can you make?
Try using paint to mix different shades of the same colour.
Draw your own picture of the Colour Monster.
Colour our printable monster images (see below). How many different ways can you colour them?
The little girl puts the Colour Monster's feelings into separate jars. Use the template below to draw things that make you happy/ angry/sad etc.
Practice drawing faces that show different emotions. Can you draw a happy face? Can you draw an angry face? Use a mirror to see how your facial expression can change to show emotions.
Music
How does music make you feel? Think of different songs/styles of music that make you happy, sad, angry etc.
Languages
Make a list of colours and find translations for them in other languages.
PSHE
At the start of the story, the Colour Monster is feeling confused. When have you felt confused? What did you do in this situation? What can we do when we feel confused in the future?
In this story, yellow refers to happiness, red is for anger and blue is linked to sadness. Do you agree with those colour choices? Why?
Make a list of different emotions and think of times when you have experienced them.
Think of other emotions and choose colours that might represent them (e.g. frustration, disgust, envy).
Downloads: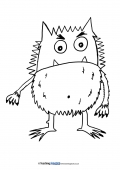 Monsters (One Per Page)
Monsters (Six Per Page)
Empty Jar Template