Buy This Book * More books by Louis Sachar
"Give me a dollar or I'll spit on you." That's Bradley Chalker for you. He is the oldest child in the class. He tells enormous lies. He picks fights with girls, and the teachers say he has "serious behaviour problems." No one likes him – except Carla, the new school counsellor. She thinks Bradley is sensitive and generous, and she even enjoys his far-fetched stories. Carla knows that Bradley could change, if only he weren't afraid to try. Sometimes the hardest thing in the world is believing in yourself.
Teaching Ideas and Resources:
English
Read the text together. Discuss the characters / settings / events. Identify any unusual words… there are many American words in the story which children outside of America may be unfamiliar with. Make a glossary of these words.
Look at these images. They show the most common words from the first two pages in the book, and from Chapter 1. What do they tell us about those parts of the book? Which words appear most often? Why? What types of words are they (nouns / adjectives etc.)? You can make images like these by pasting your own text into?www.wordle.net.
Pages 1 and 2: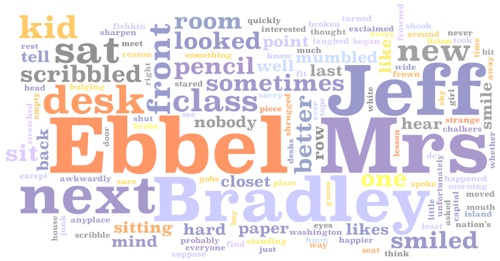 Chapter 1: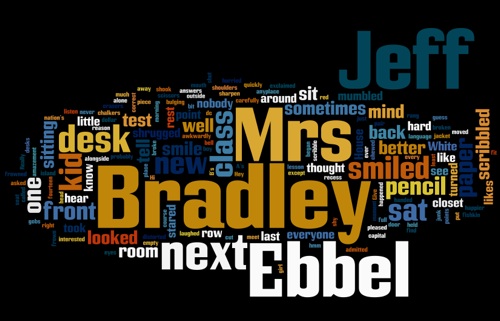 Make a diary from Bradley's point of view. What thoughts and feelings would he include? How would he present the diary – in a neat and tidy way, or scruffy and messy?
Make a diary from Jeff's point of view. What would he say about Bradley and the events of the story? How would his diary be different from Bradley's? Why?
Billenda Hemeyer has suggested the following idea:

'I have been using this book for the last five years in fourth grade. Every year we stop at the point where Bradley thinks he's a monster and the kids in groups draw life-size posters of monsters, with a red heart in the middle. They then write an 'I Am' poem from his point of view. At the end of the book we do the same thing, only this time Bradley is a regular looking boy with a big smile. Then we do another 'I Am' Poem. It beautifully shows the profound changes Bradley Chalkers goes through!'

Use the images provided below to support your diary writing. You could also try adding speech / thought bubbles to each picture to show what each person is thinking / feeling. A tool like Voicethread could also be used in a similar way.
These images were created by Helen Warner and are available to download below.
Hotseating – Take on the role of one of the characters and ask other children to interview them about the events of the story.
Conscience Corridor – Split the class into two groups and have each group form a line which faces the other. Have one child take on the role of Bradley and get him / her to walk down the 'corridor' in between the lines. 'Bradley' should ask each person a question about what has happened to him in the story, e.g. Should he go and see Carla today? What should he say to Jeff when he sees him next? How can he get Mrs. Ebbel to like him?
Choose one of the chapters and rewrite it as a storyboard / script which the children can then perform. These could be recorded and played back for evaluation.
Make a character profile about each person in the story. What do they look like? What are their personalities like? What kinds of things do they say? How do other people respond to them?
When you reach the end of the story, think about how each of the characters has changed. When / how / why did these changes take place? What did each character learn?
Computing
Use email to interact with the characters. If possible, the teacher can set up an email account for 'Jeff'. The pupils could then send emails to Jeff at this address with the teacher responding in role as the character. Children could ask Jeff how he feels about particular events in the story, or give him advice about how he can help Bradley. A child could also take on the role of Jeff and write appropriate responses.
Make a Powerpoint story – The Powerpoint presentation below has a selection of images which are based on the events of the story. Can children add their own text to explain what is happening? Weaker writers could use the audio recording options within Powerpoint to tell their version of the story and then play this back later.
Jen Kenny suggests… Get the children to create a trailer for the film of the book, so they have to pick out key moments without giving away too much of the plot. They could use movie maker to do this, using drawn images, images from the net or digital camera photos.
PSHE
The story is also a great starting point for discussions about PSHE and bullying. How does each character in the story behave and how does this influence how others treat them?
Brian has shared the following suggestion:

'Listen to the song "I am a rock" by Simon and Garfunkel. I can't recall at which chapter I played it for my students, but I do recall the hair standing up on the back of my neck. Students can do a number of higher order activities analyzing, comparing, and connecting the song to the book.
The book can be a wonderful springboard for discussions and activities that help students to better understand their feelings. Depending on their maturity, they may begin to understand the motivations behind the actions of others. Between this book and the poem, "Our Greatest Fear," a teacher can really help young people better understand themselves and each other. Those activities helped me to have the most amazing years of my career in the classroom.'
Downloads:

There's a Boy in the Girls' Bathroom Pictures

Powerpoint Story