Buy This Book * More books by Jon Klassen
When a tiny fish shoots into view wearing a round blue top hat (which happens to fit him perfectly), trouble could be following close behind. So it's a good thing that enormous fish won't wake up. And even if he does, it's not as though he'll ever know what happened, will he?
Teaching Ideas and Resources:
English
Use the speech in the story to create a playscript.
Rewrite the text in the book as direct speech and / or reported speech. What is the difference between them?
The book is written in the first person. Can you rewrite it in the third person?
Use the story as the basis of a newspaper report about a stolen hat.
Can you find different examples of nouns / adjectives / verbs / adverbs in the text?
Look for examples of different types of punctuation in the story.
Carry out role play activities involving the small fish, the large fish and the crab. What are their thoughts about the events that took place in the story?
What happened to the small fish? Did he get away? Was he eaten? What might happen next?
Lots of the sentences in the story are very short. Could you join them using connectives? Why did the author choose not to do this?
Create a set of captions / speech bubbles / thought bubbles for the illustrations in the book.
Maths
Estimate the size of the small and large fish in the book. How do they compare to everyday objects in your home / classroom?
Science
Research different types of fish and write a report about one.
Write a set of instructions to teach people how to care for a pet goldfish.
Find out about other types of creatures that live in the seas and oceans around the world.
Computing
Use art software to design a new hat for the fish(see Resources below).
Design Technology
Design and make a new hat for the fish so that he doesn't have to steal one. What materials could you use?
Look at existing examples of hats. Who might wear them? How are they made? What materials are they made from? (see Resources below)
Art
Look at the illustrations. How do the images convey movement / expressions?
Look at photos of fish and other sea creatures. Use these as the starting point for your own artwork (see Resources below).
Use the template to design a new hat for the fish (see Resources below).
Music
Compose a tune that could be used in an animated movie of this story.
PSHE
Make a list of reasons why it is wrong to steal things from others. How does it make the people involved feel?
Think of things that the small fish could do if he were ever tempted to steal again. How could he stop himself?
Downloads: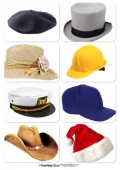 Hat Photos
Underwater Pictures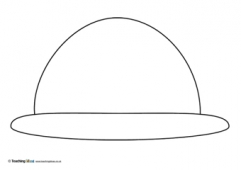 Hat Template (PDF)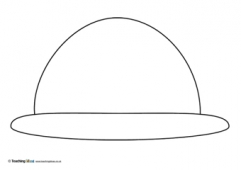 Hat Template (PNG)