Ages: 5-11
Contributor:
Norman Snell
The idea below is based on a resource available below.
This makes an excellent display of a flower for each of the children. The children fill in each petal of the flower with their ideas which relate to the statement at the top of the petal, e.g. I feel happy when… I work with my best friend.
At the centre of the flower use a camera and put a picture of the child.
Cut all the petals and centre out and arrange back as a flower. Leaves and stems can be added to make a large display on a window.
The PDF can be used as it is or enlarged up to A3. It can also be duplicated on different colours to make a more colourful flower.
Downloads: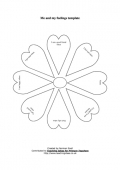 Feelings Flower