Ages: 7-11
Contributor:
Rob Dell
These resources are all based on a font which Rob has created. It is called "Use Your Illusion" and can be downloaded below. Once downloaded, it should be installed into your Fonts folder.
Once you have installed the fonts, you can use the optical illusions in your documents. The illusions can be found by typing the (lower case) letters a to r. The table below shows each illusion and it's corresponding letter.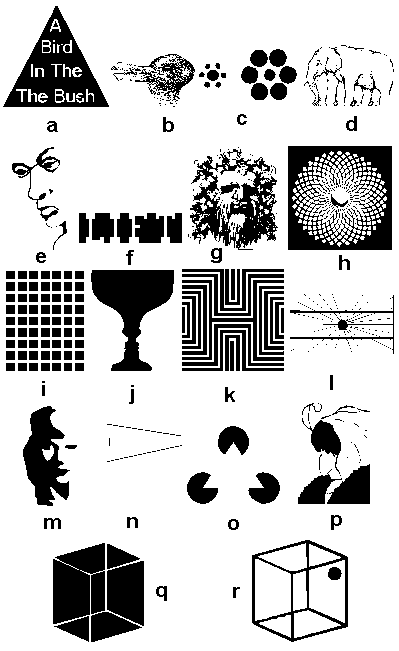 Rob has also contributed a very useful set of worksheets (in PDF format) which can be found below.
1) These optical illusions would be perfect to be placed on a Puzzle Display.
2) These illusions can be used as stimuli for children to create their own illusions. Obviously illusions such as b, g, p and m would be difficult to create, but children could create some new examples using similar features to those found in f, j and o.
3) Make an optical illusion book (or display), using some of the pages from Rob's worksheets and some which children might have created.
---
Sylvia Perez has contributed another font which can be used for similar work. Each letter in the font can be 'viewed' from two different sides. Can you see them both?
Download the font below.
Downloads:

Optical Illusion Font 1 (by Rob Dell)

Optical Illusion Font 2 (by Sylvia Perez)

Optical Illusions Resource (by Rob Dell)