Ages: 5-11
Charles Dickens is much loved for his great contribution to classic English literature. He was the quintessential Victorian author. His epic stories, vivid characters and exhaustive depiction of contemporary life are unforgettable.
Some teaching ideas:
Find out about the life of Charles Dickens and write a biography about him (see Resources below). Watch this video for some information:
Read one of Charles Dickens' books and write a review of it.
Find some of Charles Dickens' books in the word search (see Resources below).
Watch some TV and film adaptations of Charles Dickens' stories. Which do you prefer? How do they compare to the written text?
---
A set of fact cards (and matching display banners) are also available to download below. These resources could be used in a number of ways in your classroom:
Work with your class to make a display board about the author. Add our fact cards and banners to the display.
Challenge children to make a written, audio or multimedia quiz based on the information on the cards.
Ask your students to find other facts about Charles Dickens and record these on the blank template provided in the PDF.
Share the cards as part of shared / group reading activities.
Display the resource on a large display and use them for whole class teaching work about Charles Dickens.
Downloads: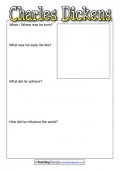 Charles Dickens Biography
Charles Dickens Word Search
Charles Dickens Fact Cards
Charles Dickens Banner 1
Charles Dickens Banner 2